Ayushmann Khurrana and Anubhav Sinha reunite again after critically acclaimed Article 15.
Ayushmann Khurrana is one of the most bankable stars in the industry nowadays. Just not box office stats but also he has managed to win the audience's trust with his excellent scrip sense. In the last 2 years, he seemed unstoppable whether it is box office success, film's quality or his acting, he totally ruled in every aspect. Talking about his recent form, the last 9 films were successful in a row, that's impeccable.
Ayushmann Khurrana's last film Shubh Mangal Jyada Saavdhaan collected well at the box office and gained critics praise too. His next film is Gulabo Sitabo which also stars Superstar Amitabh Bachchan and is directed by Shoojit Sircar. Meanwhile, there is another announcement is made about his next film which will reunite him again with director Anubhav Sinha.
Film trade analyst, Taran Adarsh officially tweeted about the film. Ayushmann Khurrana will be seen in an Action Thriller directed by Anubhav Sinha. The film release on 16th October 2020 making it 3rd release of Ayushmann Khurrana in this year after Shubh Mangal Jyada Savdhaan and Gulabo Sitabo.
Anubhav Sinha directed Ayushmann Khurrana for Article 15 which was appreciated for its hard-hitting content. Talking about the box office, Article 15 emerged a Hit by collection hitting over 64cr in India. Recently, Thappad directed by Anubhav Sinha also emerged a box office success along with critical acclaim. This duo will set screens on fire yet again and there's is no doubt about it.
Taapsee's reply to Kangana's comment, wins the respect of Sonakshi Sinha
Kangana never stay back at digging on one or the other Bollywood celebs or Filmmaker, the war of Nepotism for is still not over and SSr's demise has added fuel to the fire of never ending war of Nepotism. Recently in an exclusive interview with Republic TV, the Queen actress targeted Taapsee Pannu and Swara Bhaskar and called them B-grade actresses. She also said that both are better looking and better actors than Alia and Ananya.
To which Taapsee gave a bang on reply on her Twitter account and her tweet read "Maine suna class 12th n 10th ke result ke baad humaara result bhi aa gaya hai! Humaara grade system ab official hai ? Abhi tak toh number system pe value decide hoti thi na #MaLifeMaRulesMaShitMaPot" Not only this she slammed Kangana and told Hindustan Times, "I refuse to be bitter. I refuse to take advantage of someone's death for personal vendetta and I refuse to make a mockery out of the industry that gave me bread and identity. I have had my share of struggles and just because I don't glorify them or deal with them with a positive outlook doesn't make me any less of the outsider."
She further added, "Yes, I've been dropped out of films and replaced with star kids but the fact that she and her sister try to discredit me and my hard work, call me names, put wrong allegations on me is actually an equal level of harassment if not more. All this coz I refuse to sing her tune and because I refuse to see her as the flag bearer of outsiders, we all are not bitter people."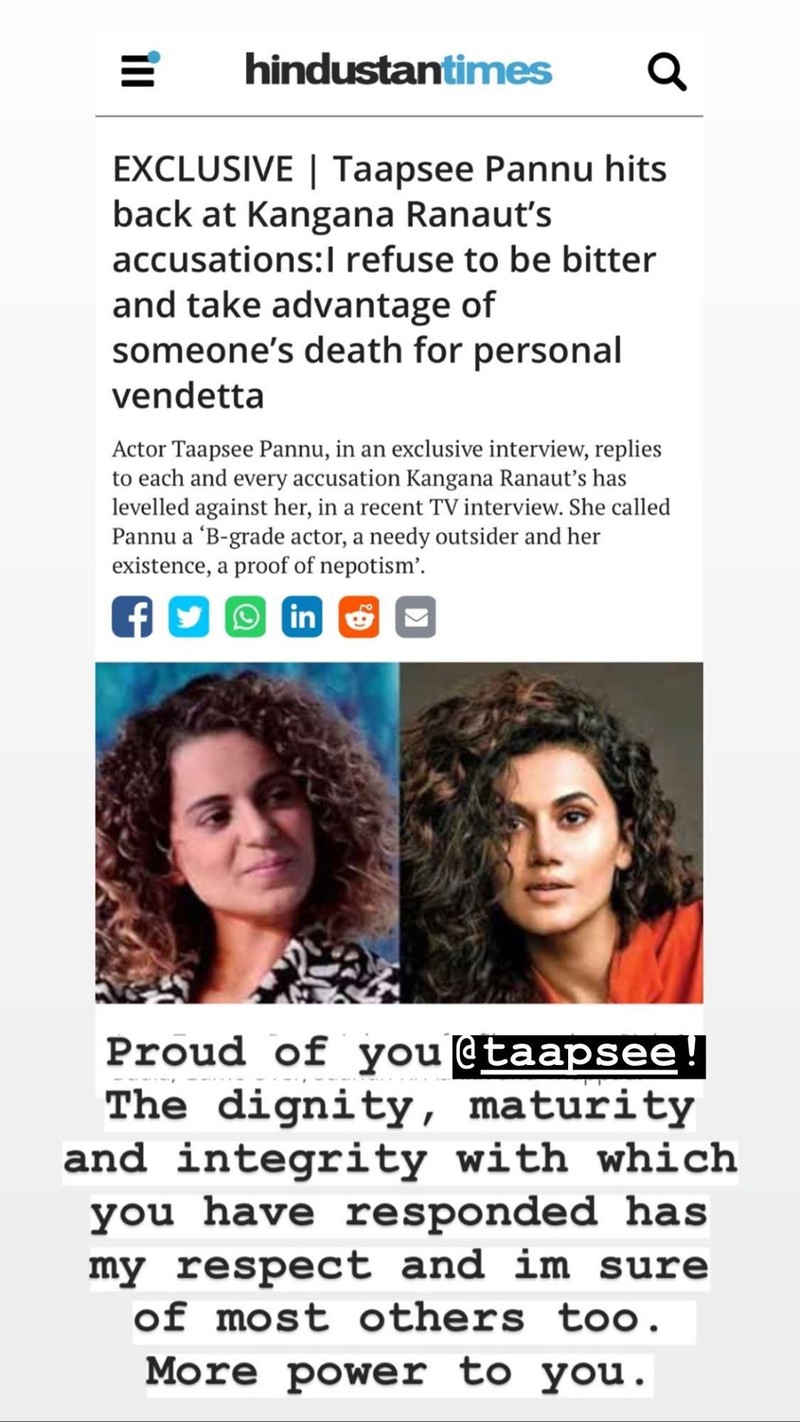 Well, actress Sonakshi Sinha was content with this befitting reply from Taapsee to Kangana. She took to her IG story and thanked Taapsee for her dignified remark. She wrote in her Insta story, Proud of you @taapsee! The dignity, maturity and integrity with which you have responded has my respect and I am sure of most others too. More power to you."
Katrina Kaif Shares fun BTS Moments With Ishaan Khatter- Siddhant Chaturvedi
Bollywood Top actress Katrina Kaif has a tons of film on her way, Apart from Rohit Shetty's Suryavanshi, Kartrina will be seen in "Phone Booth" opposite Siddhant Chaturvedi and Ishaan Khatter. Just a few hours ago, the makers of Ishaan Khatter, Katrina Kaif and Sidhant Chaturvedi starrer Phone Booth released the first look poster of the film. It showed all three stars all suited up, and the interesting poster left fans excited to see their favorite stars in new project.
Now, Katrina has shared yet another BTS moment from the set of Phone Booth, and it shows Ishaan Khatter and Siddhant Chaturvedi goofing around on the sets while Katrina is getting ready for the shoot. They can both be seen chasing each other with toy guns, and the video begins with a warning for extremely violent content. Siddhant hides behind Katrina, while she sarcastically says, "Come, see the grown ups."Sharing the fun BTS video, Katrina wrote, "Us (ghost)'s – things are getting scary around here."
BTS is soo fun, we wonder hows the film is gonna be. We and the fans are all excited for the film to be out.
Mahesh Bhatt brutally trolled by the Netizens, Calls him murderer
Sushant Singh's death has been a shock to most of his fans, it's been almost a month that the young bollywood actor passed away. The pain in the heart of the fans has not finished yet. Fans are coming up with news theories if the actor has been murdered and want justice for Sushant. Fans are mostly pointing out fingers on Mahesh Bhatt  
After a month of the actors death Mahesh Bhatt tweeted about the star, saying, "
 "When the time comes to make a choice between empathy and apathy. It's often tempting to look away from another person's pain rather than make the effort to help. Let's face it – being kind is hard." He wrote this caption with a random picture that has two kids where one is seen sad while the other is seen consoling him. Even though the caption doesn't mention Sushant's name, netizens were quick to put two and two together.
https://twitter.com/MaheshNBhatt/status/1282937918504329217
Mahesh Bhatt got brutally trolled by the neitizens and caused him the reason for the young actor's death.